1989 Toyota MR2 Supercharged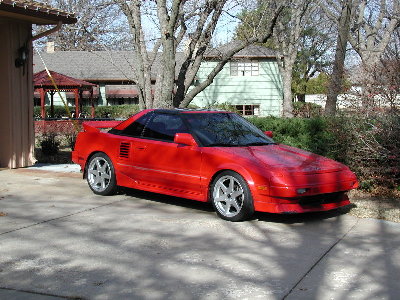 Status: Currently disassembled, awaiting 3S-GTE buildup. The following list is what the car will eventually be sporting:
2.1 liter engine (5S block, with 3S crankshaft and cylinder head)
HKS 272/264 camshafts, cylinder head otherwise stock.
Endyn/Wiseco pistons
Cunningham 4340 forged rods
HKS GT-RS turbocharger
Air-to-air intercooler in engine bay with ducting from below the car
Motec ECU
5-speed manual transmission and Kaaz differential with auxiliary oil cooler and fan
Red exterior/Black interior
T-Tops
Air conditioning
TRD Race springs / Koni Sport shocks
TRD brakeline kit
Porterfield R4S brake pads
TRD suspension bushing kit
TRD short shifter
Custom 3" stainless downpipe and exhaust
Volk TE-37 or SSR Type C wheels for street (hopefully x8 or x9 out back, to get some bigger tires fitted)
Afterward, I will probably fit an Aquamist water injection system.
Eventually, if all goes well, I might do some headwork and other modifications to free up some more horsepower. I am also planning to rework the suspension a bit, to get more stroke up front and better braking all around.