1988 Toyota MR2 Supercharged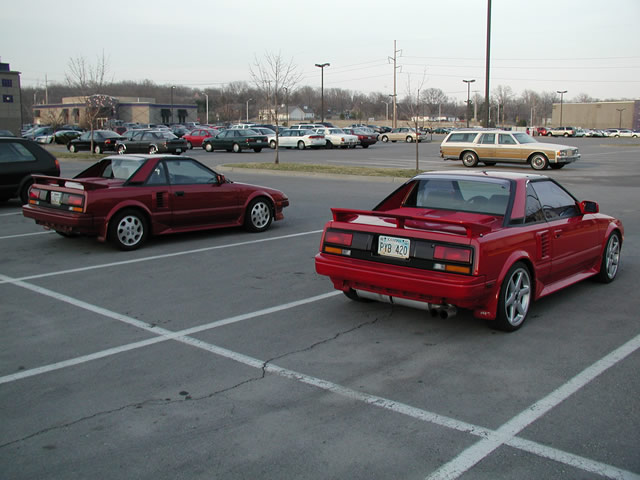 (it's the car on the left. The red car is my 89 SC)
1.6 liter DOHC engine, supercharged and intercooled (4A-GZE)
5-speed manual transmission
Red exterior/Black interior
T-Tops
Air conditioning
Tinted glass
Sport seats
Lowered with TRD Race springs/Koni Sport (yellow) shocks
TRD brakeline kit
TRD bushing kit
TRD shortshifter
HKS Super Power Flow
HKS Sport Exhaust
Nevo 165mm crankshaft pulley
JDM AE101 Toyota Corolla Supercharger (smaller pulley) to replace factory supercharger which was damaged
17x7.5 Borbet Type C wheels, Yokohama Parada 205/40 ZR-17 tires
Not sure where I'm going with this car, I have some parts that were intended for it:
HKS AW11 turbo kit
Cunningham 4340 forged rods
spare block and smallport cylinder head
I am thinking that I would prefer to have a 1MZ-FE V6 swap from a Camry, with a supercharger, for this car. I would like to retain the stoplight warrior character, and I can think of no better way to do that, and well, than with a supercharged V6. There is one person I'm aware of, that is making 300rwtq from nearly any RPM.